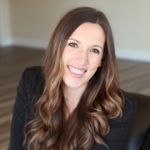 I was born and raised in Oroville and have a passion for the town's sense of community and natural surroundings. I bring professional experience and a reputation for honesty, trustworthiness, and diligence to the Better Homes Realty team. 

After completing my undergraduate degree from California State University, Fullerton I moved back home to Oroville to start my professional career and quickly found myself back in school at Chico State to pursue my MBA. After becoming a mom I knew I wanted a more flexible career so I left the corporate world behind and I'm now ready to focus on assisting others with all of their real estate needs. I know our area like the back of my hand and feel that serves as an invaluable resource to a diverse set of buyers and sellers across Butte County.
I'm patient, genuine and committed to my clients' success. I believe I have a keen eye for interior design and gift for seeing potential in every property. I'm a proud wife and also a proud mom to two boys. When I'm not at the office or searching for the perfect property for a client, I enjoy relaxing with my family, refining my photography skills and exploring the great outdoors surrounding Butte County.